Yosemite Valley Floor Loop
This loop is a wonderful way to explore the Valley. It is a
21km loop
.
After having hiked to Nevada Falls, I was glad that this hike took me on more level ground. Since I started out in Curry Village, I hiked probably about 2 miles to get to Sentinel Bridge, the starting point of this hike. Fortunately, the bridge is marked on the Valley map, so I had no trouble finding it. The hike starts out following a bike path along Southside Drive, which goes past the little Chapel. Once you are past the Chapel, the right opens up to a meadow with the first view of Yosemite Falls. Since this was my first time in Yosemite, I was unsure of many of the landmarks I encountered on my hikes. Fortunately, a photographer was by the roadside and more than happily confirmed my suspicion that I was watching Yosemite Falls in action.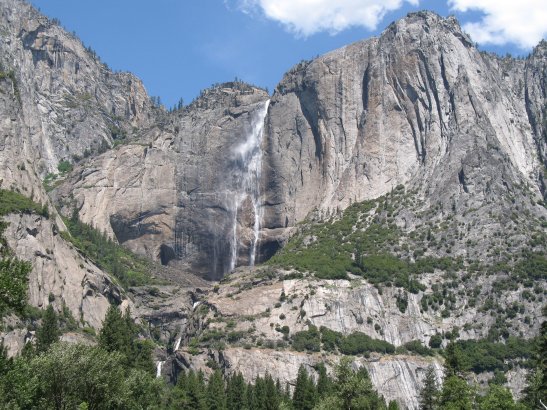 Yosemite Falls as viewed from the southside of Yosemite Valley.


Shortly after this view, I headed across Southside Drive to the trail to Bridalveil Falls. The trail meanders along Southside Drive, sometimes (too) close to the road, sometimes further up. I am struck by the many boulder slides I encounter. It is hard to imagine that these huge rocks were once on the move. Yet, just the night before, I had heard a rock slide, mistakenly identifying it as a rain pour until I was set straight by a friend the next morning. I encounter only a handful of other hikers on this beautiful trail until I get closer to Bridalveil Falls.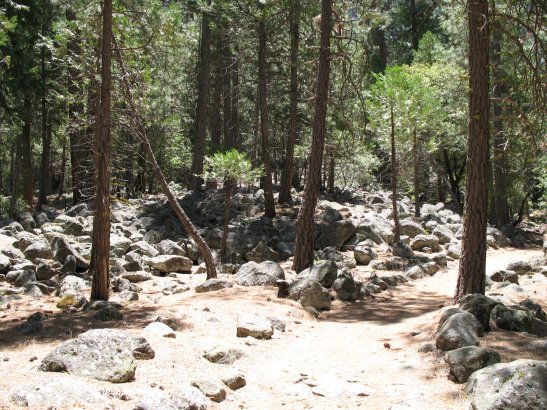 Somewhere along the trail…


And then there is Bridalveil Falls! I realize that I am fascinated by falls. It seems like I tend to pick hikes to falls. Fed by Bridalveil Creek, this fall gets its name from the way the mists look when blown by the wind. Definitely stop by the Vista Point! It is well worth the extra trip.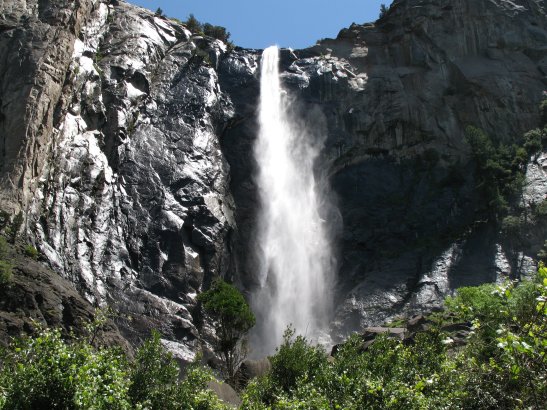 Bridalveil Falls as viewed from the Vista Point.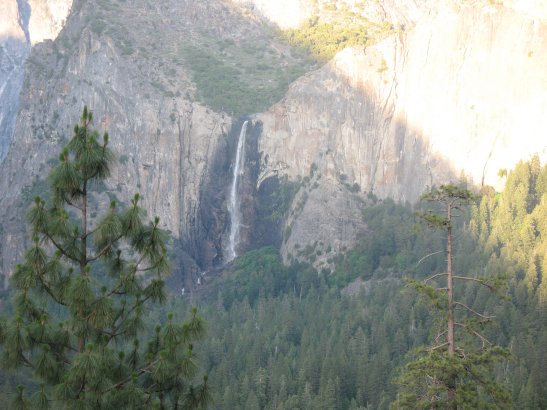 We saw Bridalveil Falls again from Inspiration Point, to which my friend took me on our way back home. This picture is taken much later in the day…


Excited from the view of another impressive waterfall, I head to the parking lot in search of the trail that was supposed to lead me to Pohono Bridge, a bridge that I had not found on any of the maps I carried with me. No signs. I take a closer look at the Yosemite map I had printed out (Choose the Park Map). I could tell that there was a street that crossed Merced River close to Bridalveil Falls, which must be Pohono Bridge. So, if I would just walk up the street a bit I should get there. I knew from a sign close to the parking lot, that the bridge was slightly more than a mile away. I started out on the side of Southside Drive in the direction of the intersection where one part would lead me to the bridge. So I thought. It turned out that the exit from the parking lot is further on Southside Drive than the intersection. I headed toward the tunnel for about 20 minutes when I decided that there was no intersection this way and turned around. I found the intersection on my way back but decided to look for the trailhead some more because both roads were buzzling with cars. A meadow with view of Bridalveil had a sign to Pohono Bridge! Excited I followed the sign. Unfortunately, there was no indication of direction on the sign, which I found out was a major drawback. Twice. Frustrated with my three false starts, which caused me to add about 90 minutes of extra hiking or about 8km, I took a deep breath and headed toward what I hoped was the Pohono bridge on the road. As I was cursing the cars that were passing too close to comfort, I looked into the woods and I saw a trail! A bit leery of yet another trail leading me nowhere, I nevertheless decided to get out of cars' way and take the trail. As long as the trail would stay close to the road and lead in the direction I figured the bridge should be, I would be okay. I was dancing for joy when I spotted a bridge! And I felt like I had won the lottery when I saw the sign on it: I had found Pohono Bridge. Oddly enough, I did not take a picture! I still don't know where the trailhead is but the trail to the bridge, once I had found it, was very nice leading me through forest sometimes close to the Merced River. (Of course, two days after my hiking, I discover a hiking map that shows the Pohono Bridge: http://www.nps.gov/yose/planyourvisit/upload/valleyhikes.pdf).
Once I had crossed the bridge, I was supposed to follow signs toward El Capitan and Yosemite Village. Again, there were no signs. Deciding that I would take my chances with a trail that looked official and was heading in the right direction, I set off going East close to Northside Drive. About 10 minutes into this section of the hike, I had another view of Bridalveil Falls. The trail ended close to a controlled burn area. Fearful of more false starts, I decided to walk along the road, which is less traveled than Southside Drive. Shortly thereafter, I ran into three hikers who were looking for the trail to Pohono Bridge that I had just come. We commiserated over the lack of signs and shared stories of our false starts. Fortunately, since they had come the other way, they were able to point me toward a trail they had taken from Camp 4. With renewed energy, I set off on my search of the El Capitan trail. Again, I used sense of direction – and El Capitan itself – to lead my way since signs were scarce. Based on the maps I carried, I had decided the route I would take. I soon passed what I thought was Camp 4, excited that I might have time to stop at the Ansel Adams gallery my friend had recommended.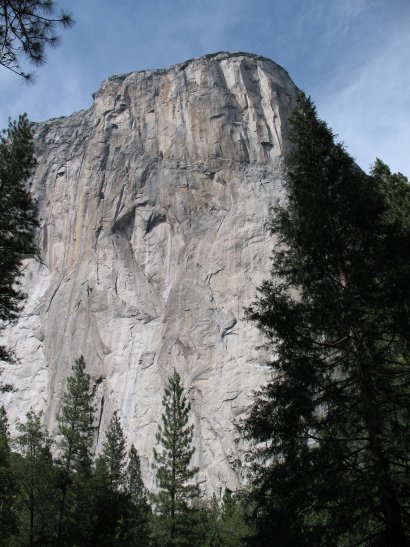 Fortunately for me, El Capitan is very visible – unlike the signs that are supposed to point out the trail leading to it.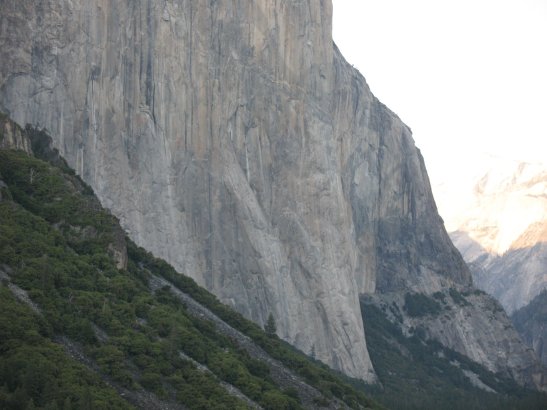 The (barely visible) heart on El Capitan as seen from Inspiration point. Again, this picture was taken later in the day after driving there.


I had underestimated where I was. I kept looking for the trail on the map. Finally, I realized that the trail was sandwiched by the drive and the river. I hadn't passed Camp 4. I was about half a mile West of it… By this time, I had no idea if I was on the trail I was supposed to take. But at least, I now knew where I was on the map. Even though that was further away from the end than I had thought, I no longer felt lost and enjoyed my surroundings again. After passing through Camp 4, the same pattern emerged: no trail signs but something looking like a trail, which I took since it roughly coincided with the trail on the Yosemite Valley map (Choose the Yosemite Valley map). I passed by a rock climber camp, fascinated to see about 40-50 people being trained in scaling these rocks. Soon, I saw the Yosemite Lodge and the number of people on the trail increased again. I decided to give up on Yosemite Village since it was close to 5 PM and I figured the Ansel Adams Gallery would be closed. Plus, my feet and legs were tired. I had mapped out a route along a self-guided trail that would lead me back to Sentinel Bridge. Figuring that I had more than covered 21km, I felt justified in abandoning the walk instructions, especially since I wasn't sure I could find the trails they were leading me on (unfortunately, the map that came with the instructions was more than useless – my only complained about this hike!). The self-guided trail leads across a meadow back to Sentinel Bridge, the end point of the walk. The bridge provides another view of Half Dome, the bald giant of Yosemite.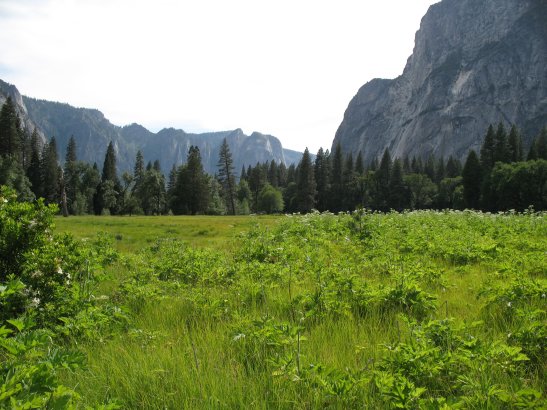 The meadow along the self-guided trail that I took back to the hike starting point.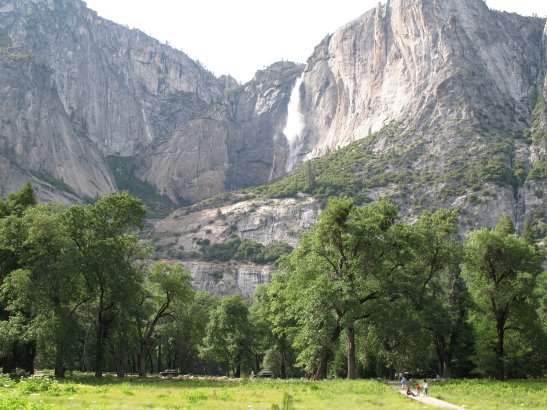 Yosemite Falls can be seen again from the self-guided trail.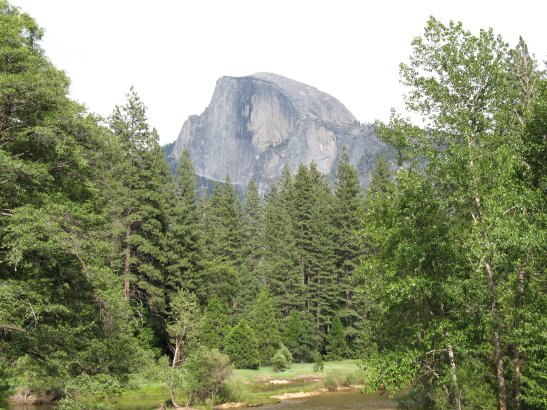 Half Dome viewed from Sentinel Bridge.


After spending about 40km (or 25 miles) hiking in one day on two trails, most of it by myself, I was glad to reconnect with the others in the Half Dome group in Curry Village. Many of them had made it up Half Dome, some of them barely, others turned around at various points for various reasons. After some dinner, my friend and I headed back home to avoid traffic out of Yosemite on Sunday. Before we went home, he took me on a tour through Yosemite Valley, seeing some of the same sites I had hiked to earlier in the day. The drive culminated at Inspiration Point with its inspiring views.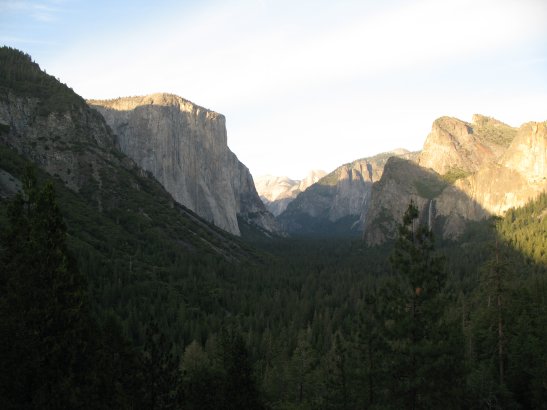 The view of Yosemite Valley and beyond from Inspiration Point at about 7:30 PM on an early June day.


Nicely tired and full of wonderful images and experiences, we leave Yosemite driving into the sunset… Arriving back home totally exhausted after 3 1/2 hours of driving.