Jetzt auf Deutsch und
Englisch
!
Now in English – in italics – and German! Though be careful: These are not literal translations!
Aber vorsicht: Ich habe sehr frei übersetzt! (Und hier liegt das auf
der Karte
…)
Kommt mich doch mal bitte besuchen! Zumindest virtuell – kein langer Flug ist da nötig. Hier sind Bilder von meiner neuen Wohnung – bitte ein kleines Bild anklicken um es größer zu sehen.

If you'd like to visit my new place, you can do so now, at least via the internet. You don't even have to hop on a plane. If you'd like to see a larger picture, just click on the small one.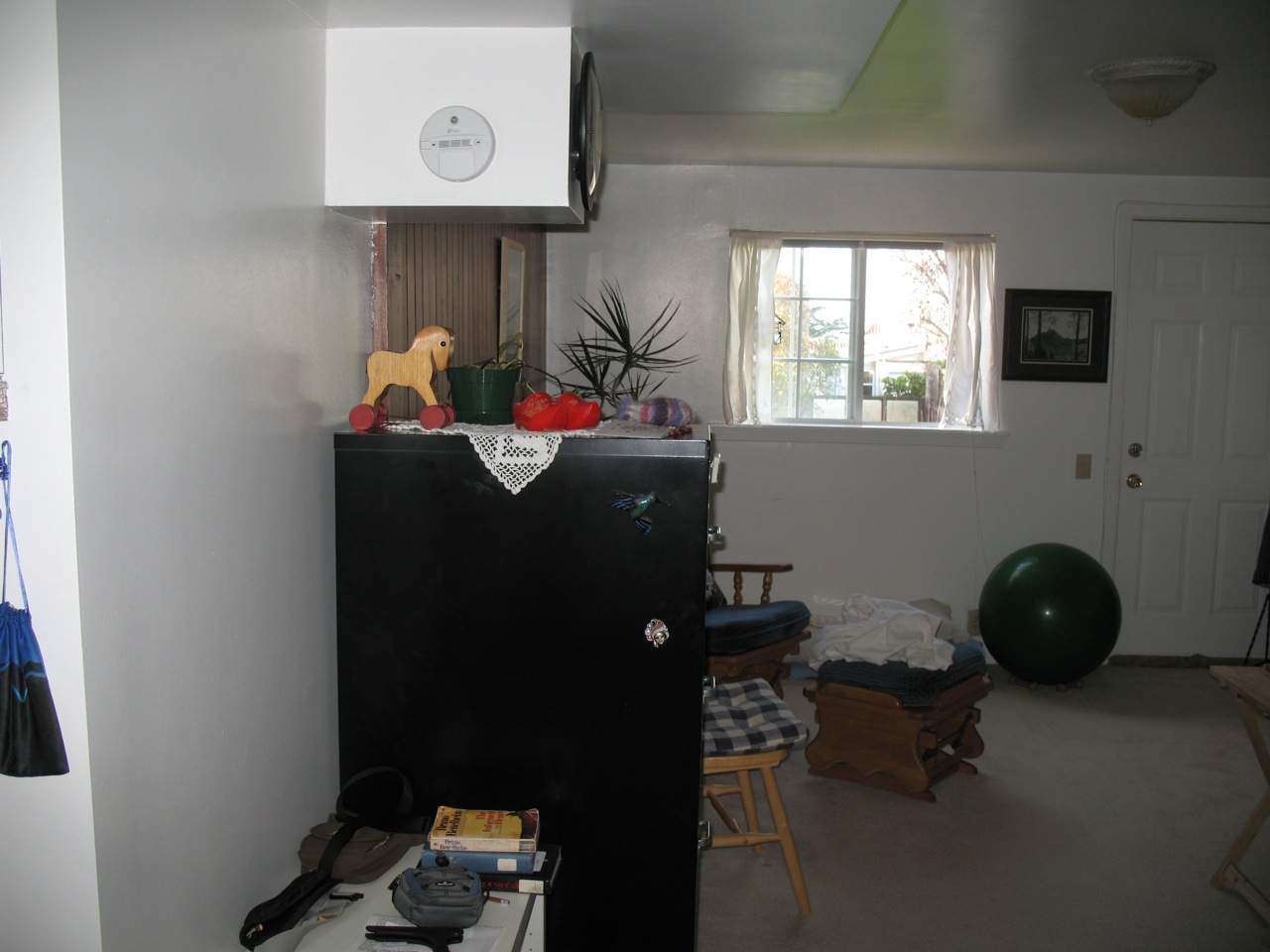 Ruhig rein kommen, bitte! Hier auf der linken Seite ist jetzt inzwischen eine Garderobe, die ich ganz stolz alleine angebracht habe. Sie hängt sogar ganz gerade…

So, come on in! Here on the left is now also a coat rack that I've proudly mounted to the wall all by myself after I took the picture. It is even straight and can handle a winter coat…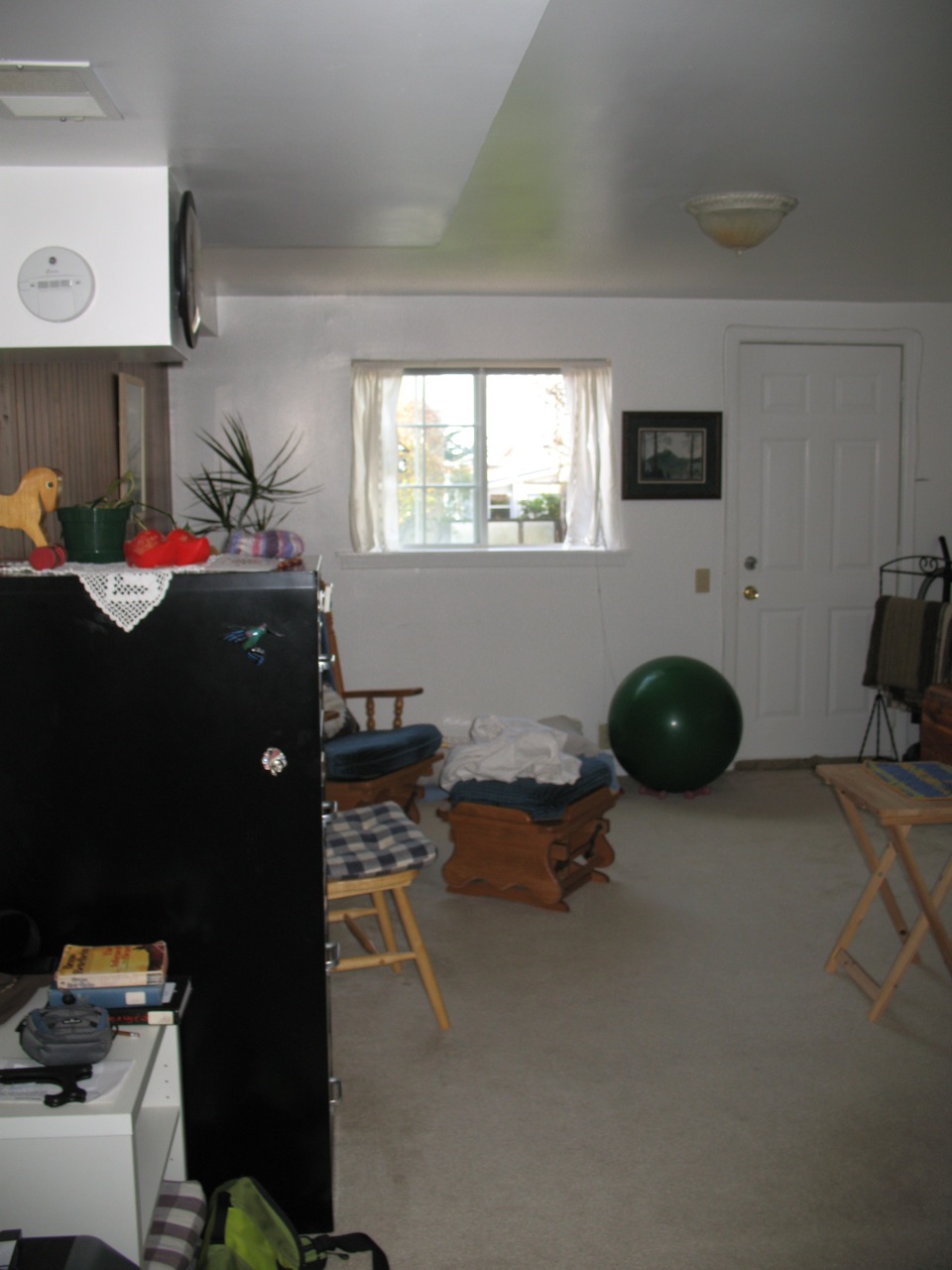 Das ist also der Blick in mein Wohnzimmer, inklusive Esstisch (obwohl ich mir noch einen kleinen kaufen will. Der Tisch den ich im Moment benutze ist ein bisschen arch klein…)

The view into my living room, including my current dining table. Okay, I am going to get a bigger one but for now, this one works just fine.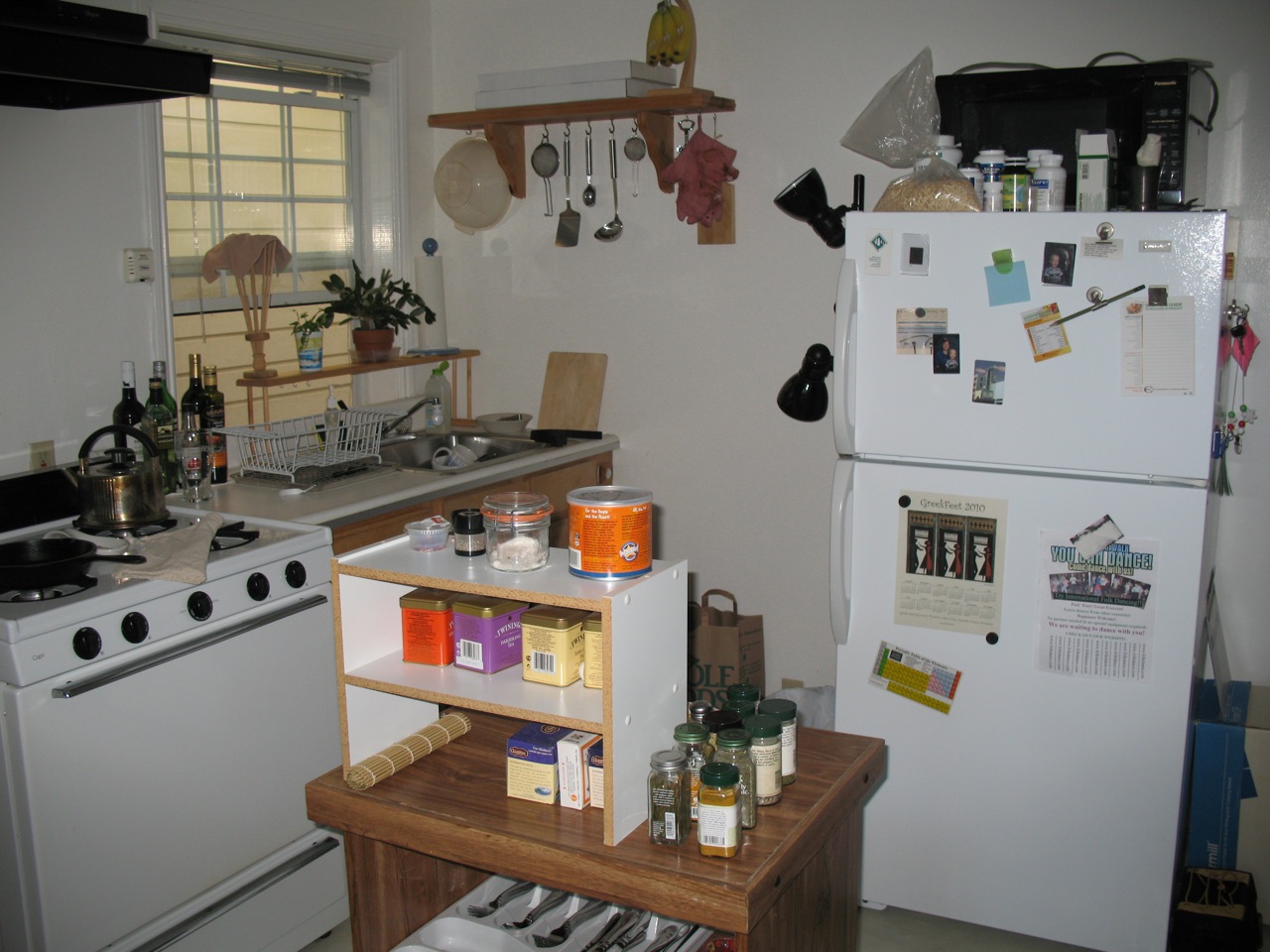 Rechts ist dann die Küche, wenn ich hier überhaupt von einer Küche sprechen kann, aber kochen kann ich hier schon! Habe ich schon öfter gemacht.

To your right is the kitchen area – I think these are called kitchenettes. But it works just fine for me…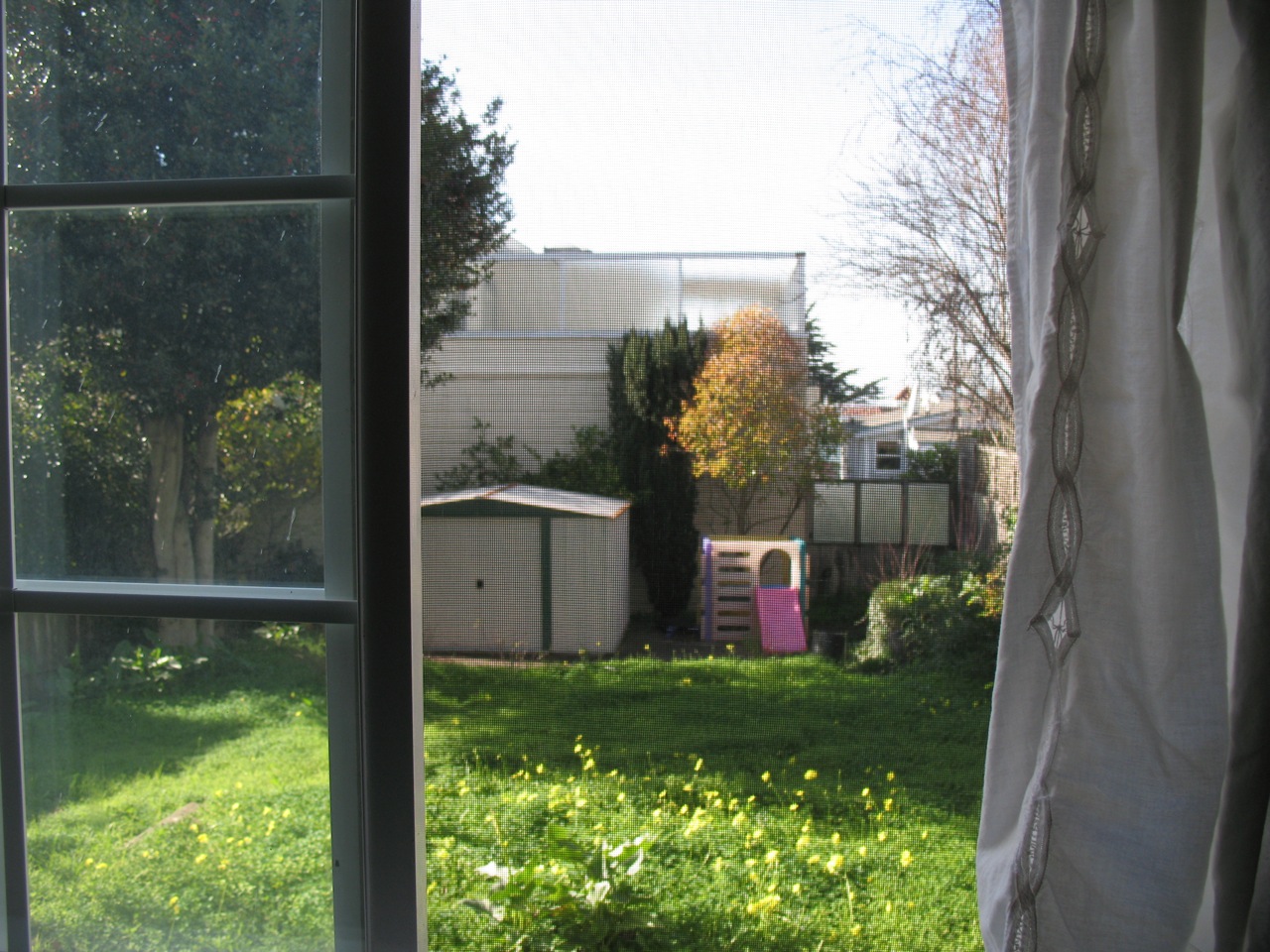 Dann schauen wir mal in den kleinen Garten! Die Fenster waren, was mir besonders gut an der Wohnung gefiel. Manche dieser "in-law" Wohnungen haben winzige Fenster. Aber meine Wohnung nicht – sie ist gut beleuchtet!

Two things that sold me on this in-law: The access to the garden and the large windows. There is lots of light in my new place! Well, when it's not all gloomy outside…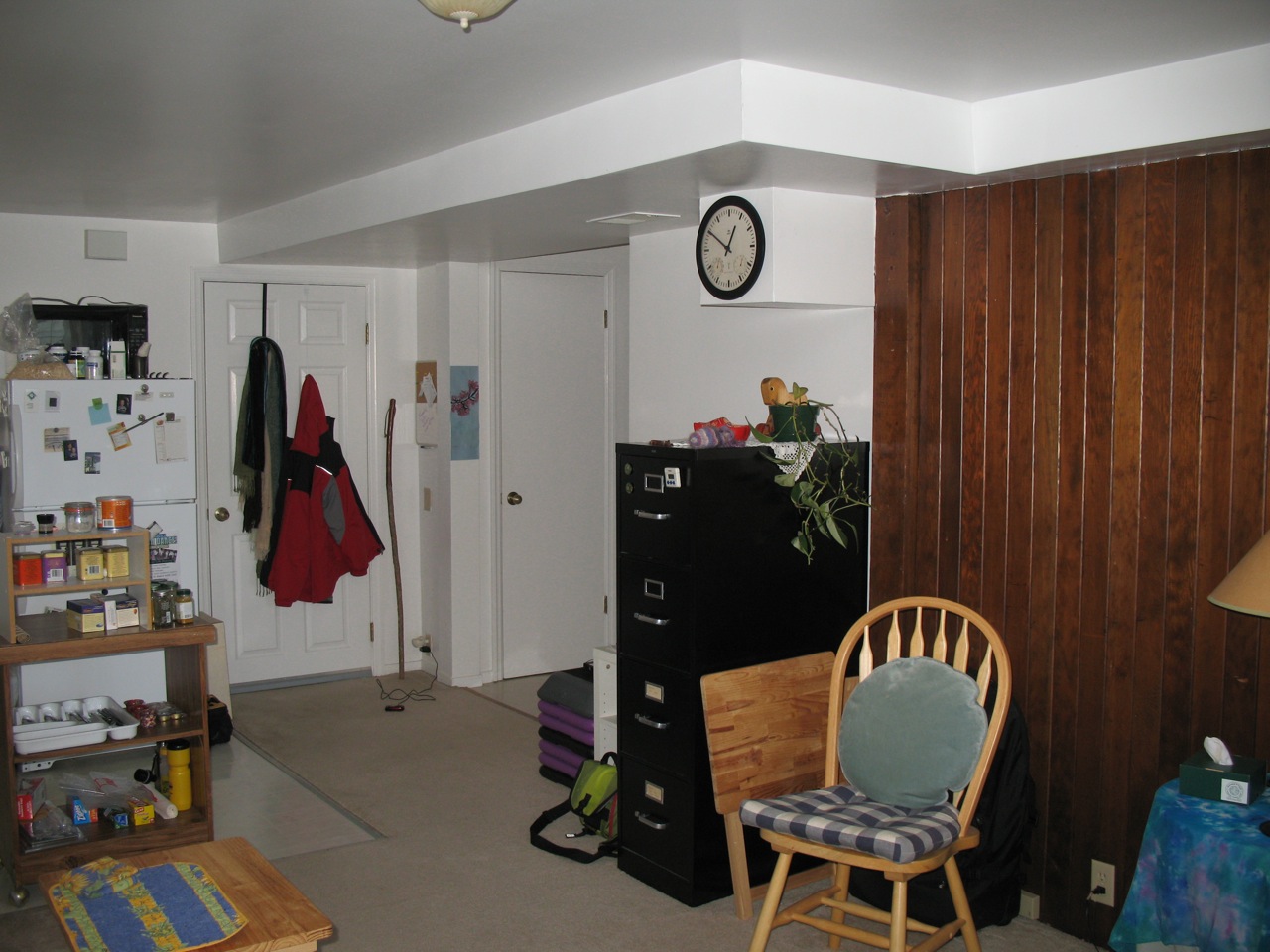 Wenn wir uns dann umdrehen, können wir das Wohnzimmer ein bisschen besser sehen. Ich plane noch einen weiteren Sessel zu kaufen, der in ein kleines Bett für Besuch umgewandelt werden kann. Der Stuhl ist von meinem alten Esstisch übrig geblieben. Ich haben den verkauft, da er für diese Wohnung zu groß wäre. Aber die Käuferin brauchte nur zwei Stühle…

Turning around, we can see the living room better. I am also planning on getting a twin-size futon chair in case someone wants to stay overnight. The chair is a left over from my dining room set, which was one of the many things that fell to my downsizing craze. It's good to let go of stuff!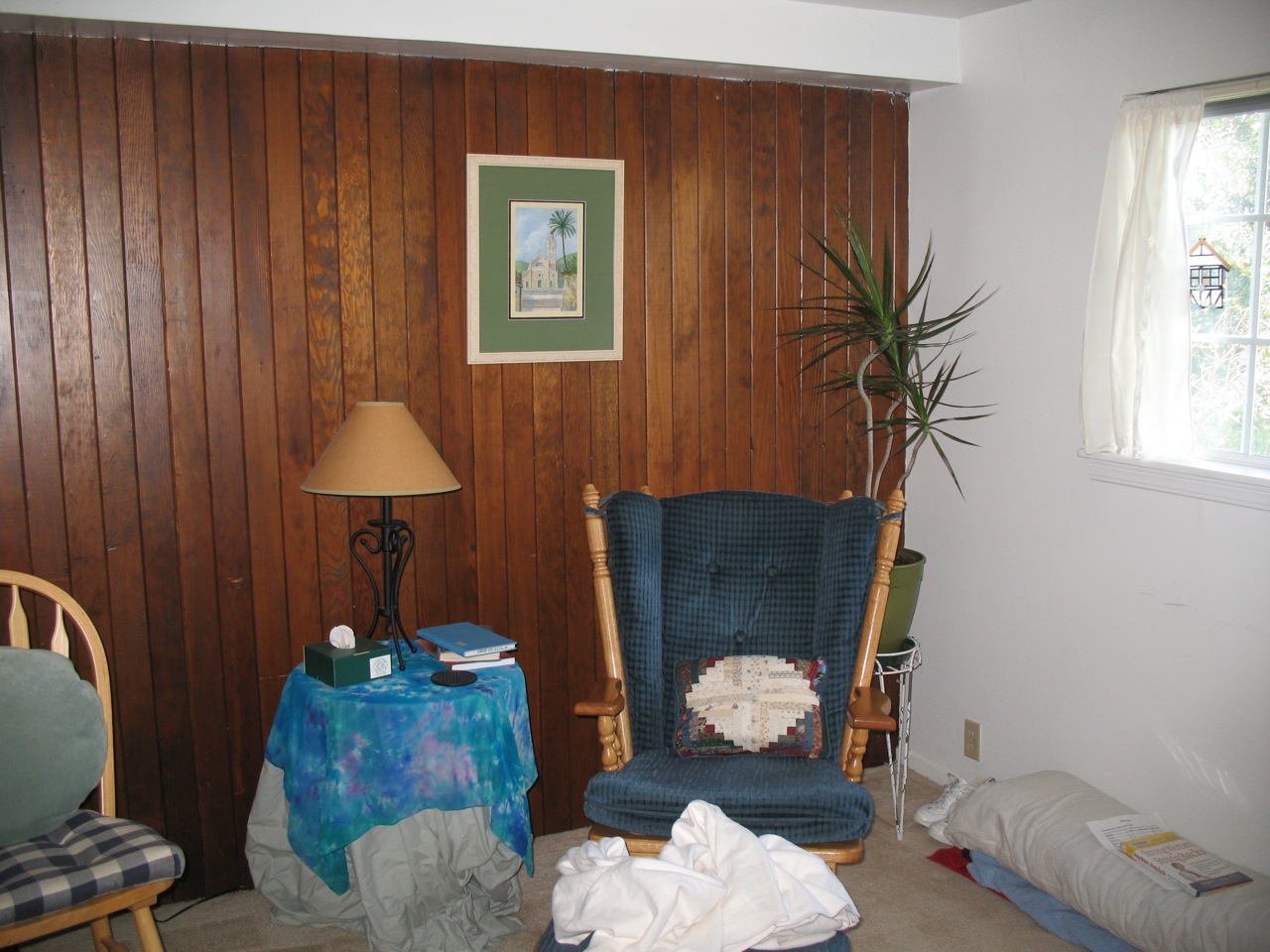 Meine Leseecke!

My reading area! I've used this quite heavily already in the two weeks I've lived here (after all the unpacking).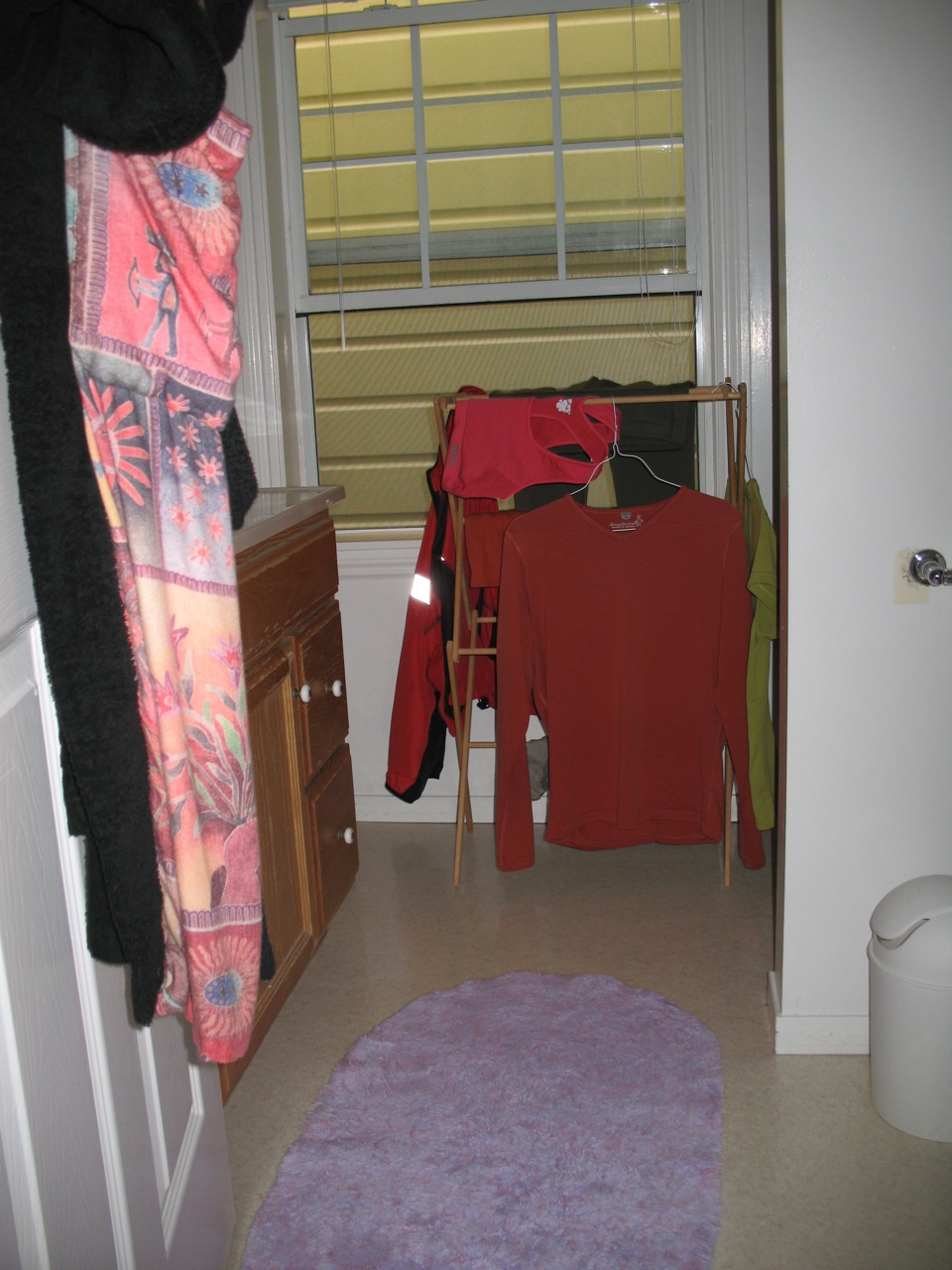 Ein kurzer Blick ins Badezimmer, was viel großzügiger angelegt ist, als es von diesem Bild ersichtlich ist.

Just a quick look into the bathroom…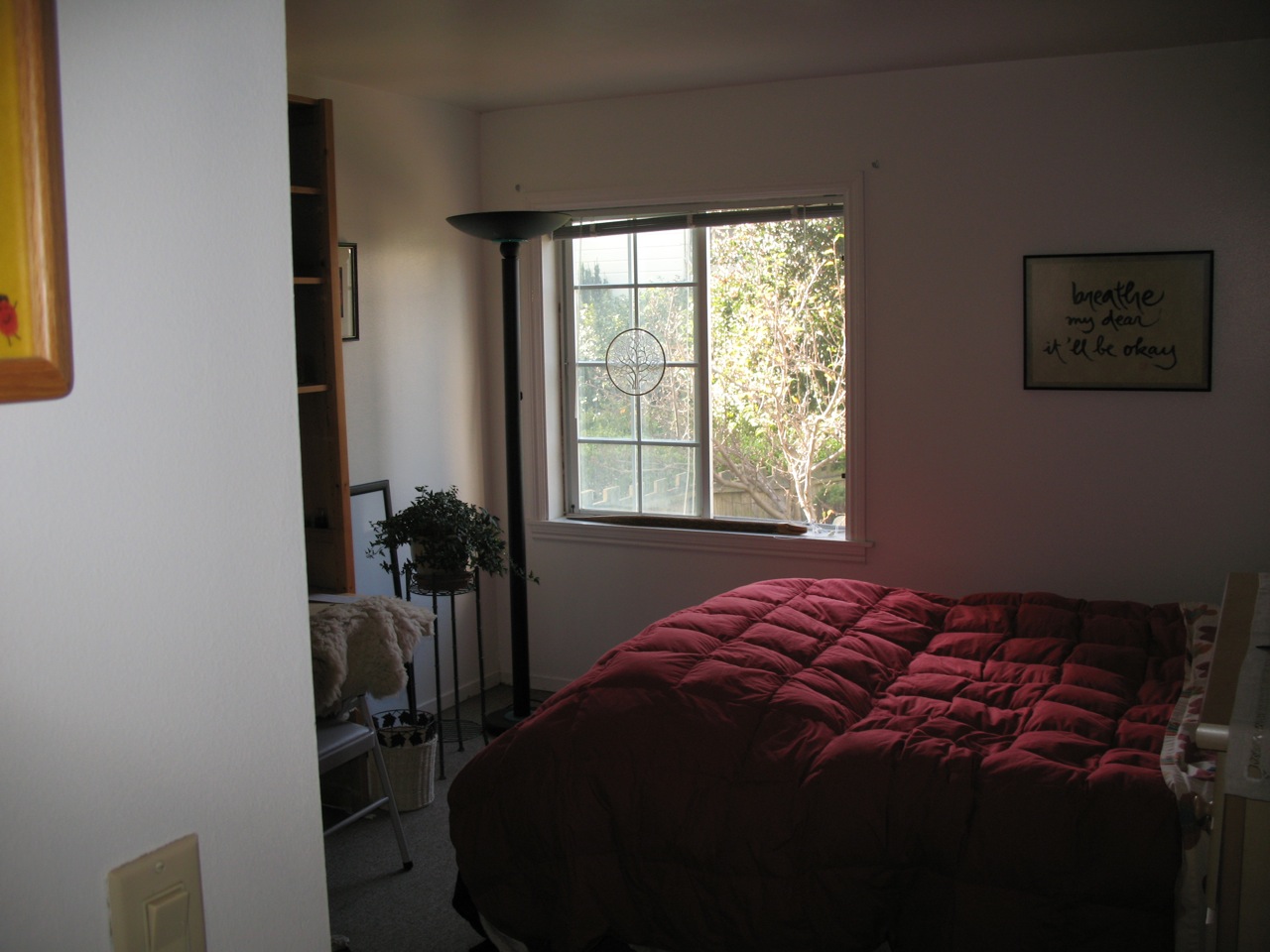 Weiter geht es in mein Schlafzimmer. Das Bett ist eine Futon, die ich mal als Sofa benutzte. Da ich aber mein riesen Bett verkaufte, benutzte ich die Futon jetzt. Und habe mit Begeisterung festgestellt, dass ich viel besser drauf schlafe, als auf meinem alten Bett mit hoher amerikanischer Matratze… Es ist einfacher und die Futon ist organisch…

Here's my bedroom, which is also where I computer. The bed is actually a futon couch, which I've been sleeping on since I've sold the monstrosity that was my bed. I've been sleeping so much better!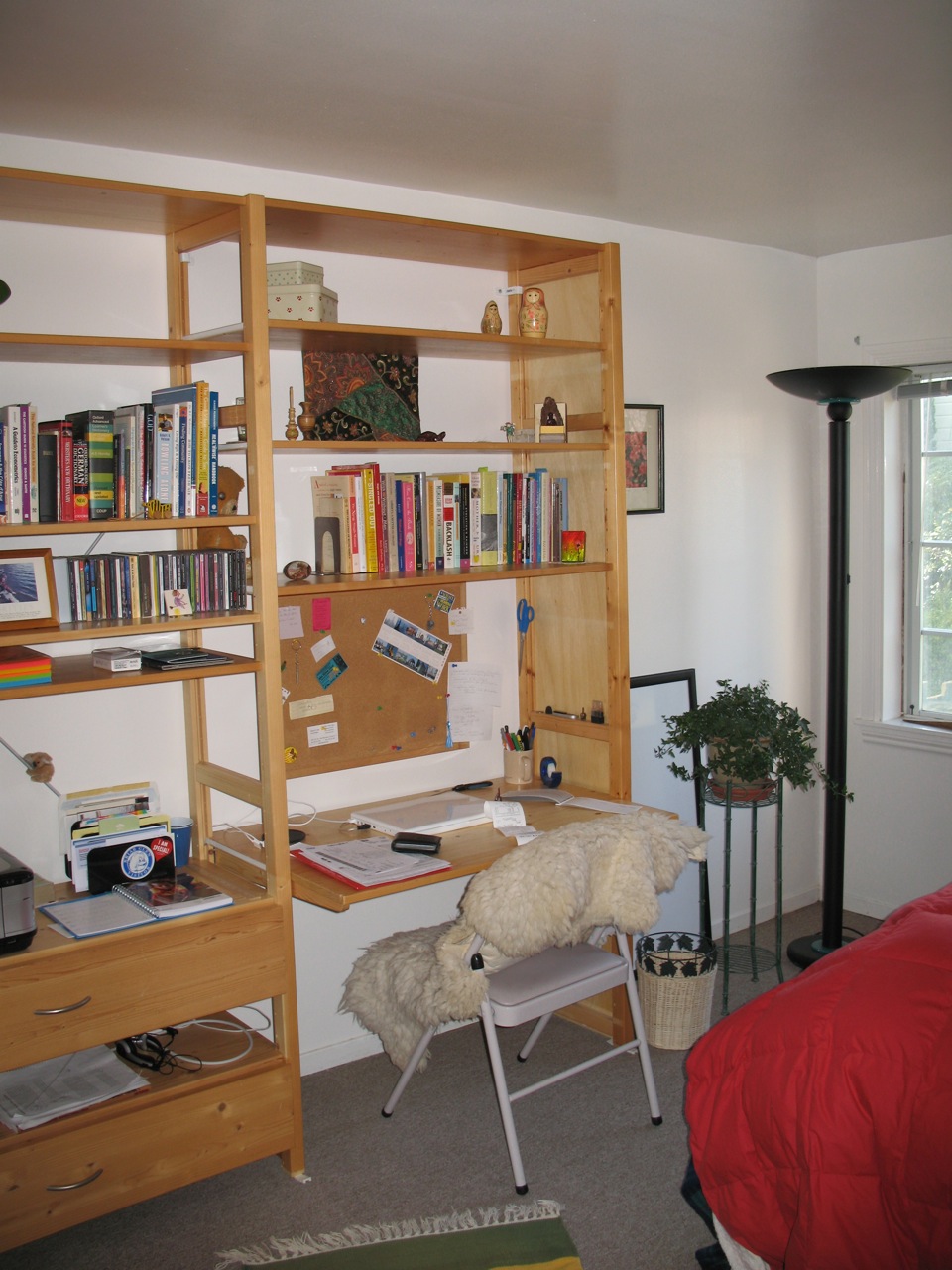 Auf der anderen Seite habe ich dann mein Bücherregal und Schreibtisch angebracht. Ich hatte vor, dass im Wohnzimmer zu machen, aber das Regal war zu hoch. Mir gefällt es so aber eigentlich viel besser! Patrick hat mir geholfen, die ganz Sache an den Wänden zu sichern, damit es nicht auf mich fällt, wenn wir hier ein großes Erdbeben haben…

Bookshelves with built-in desk. I love that I can look into the garden from here, something that would not have been possible if I had installed this in the living room. The height wouldn't have worked there, so I was forced to put it into my bedroom. A really good choice!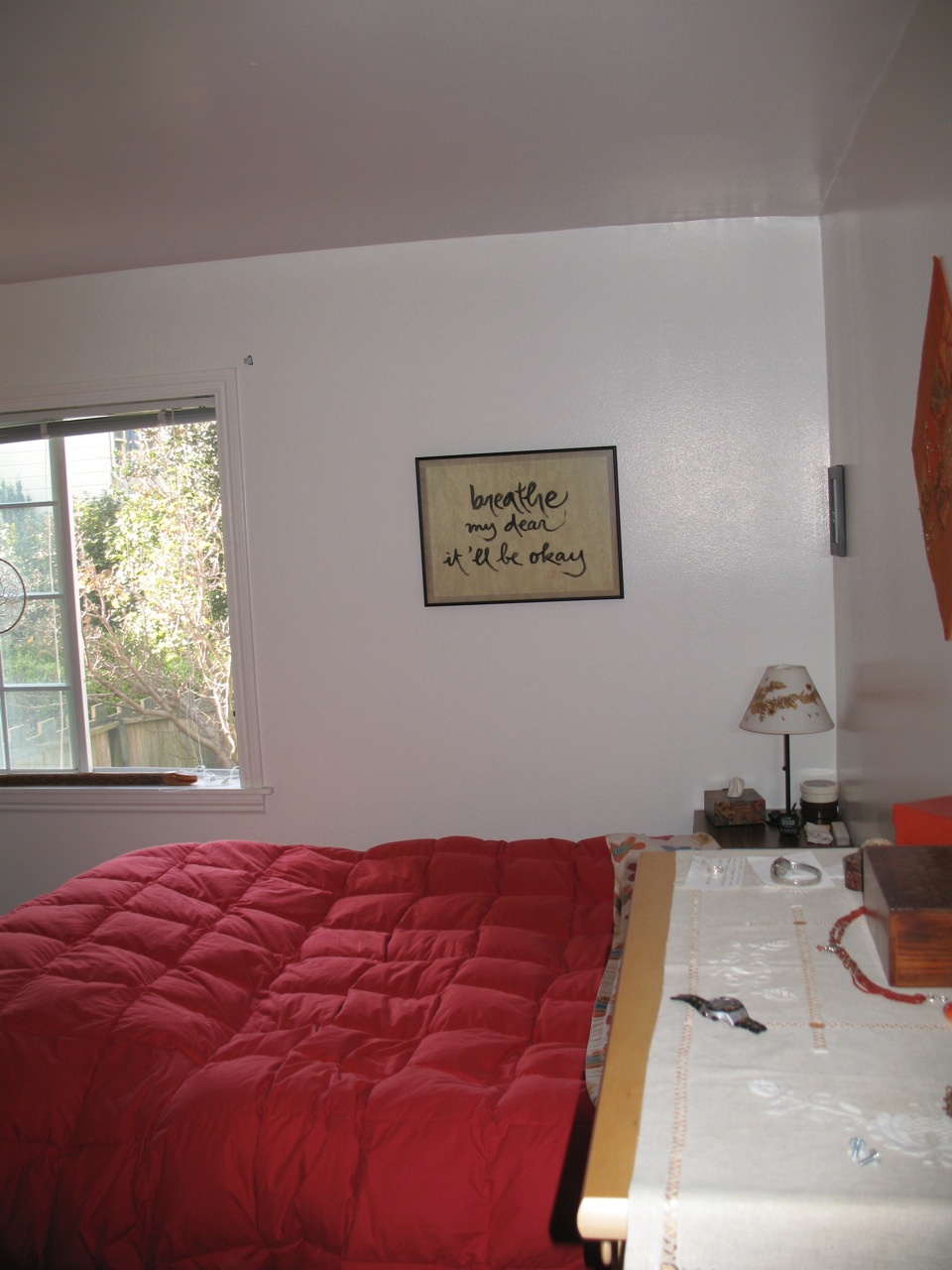 Nochmal mein Bett, diesmal von der Arbeitsecke aus..

I must've been tired when I took these pictures since I took lots of them showing my bed…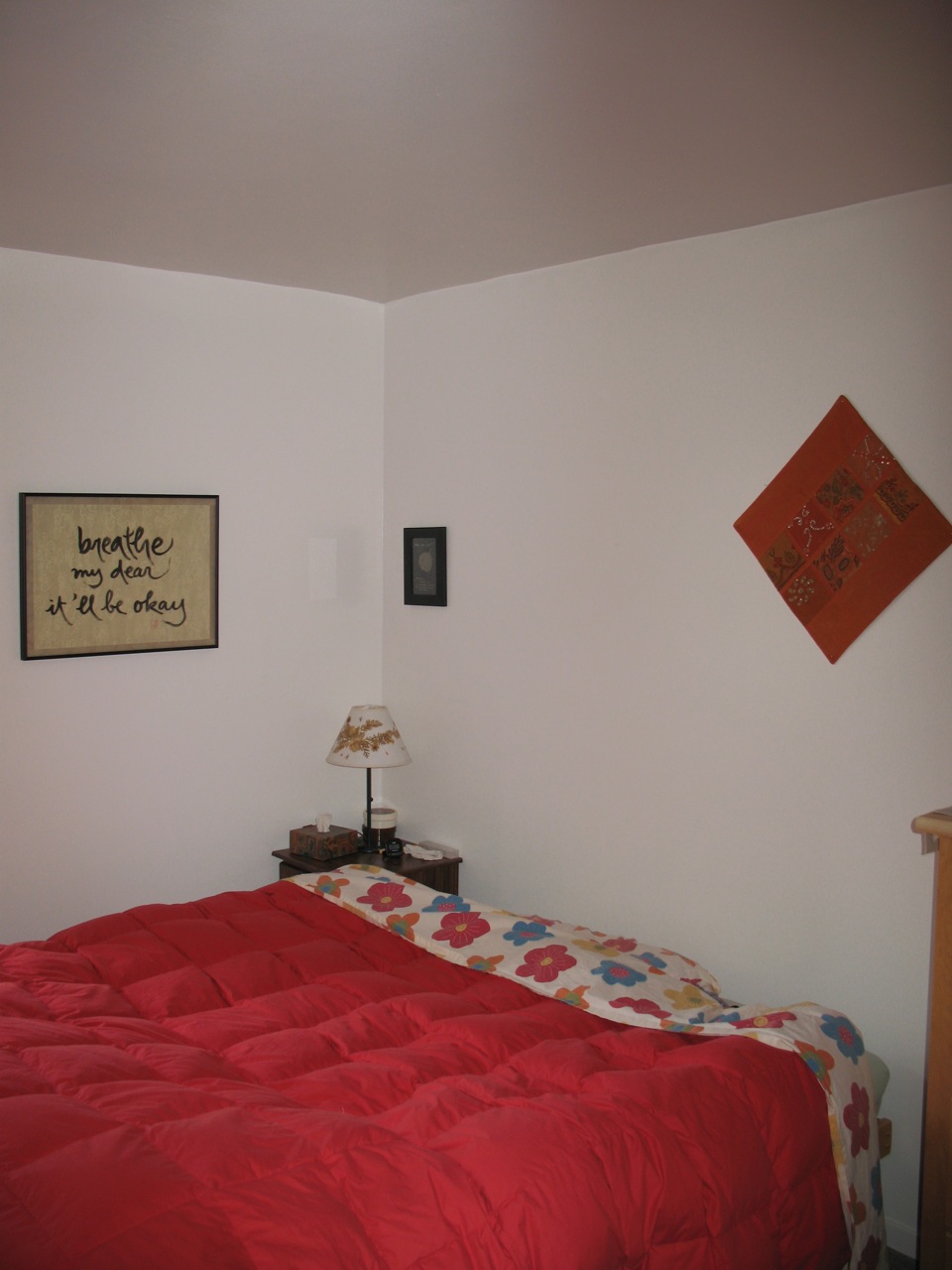 Ein Blick auf mein Bett – mit schönem Kissenbezug an der Wand. Die Kissen in den USA habe andere Größen, passen also nicht zu europäischen Bezügen… Aber der Bezug war mir zu schön – daher dekoriert er jetzt die Wand (ein grüner ist im Bücherregal zu bewundern).

More bed pictures… Notice the orange square? That's actually a pillow cover that my parents gave me. Apparently, European and American pillows are different sizes, so I've never been able to fit a pillow in it. But I thought it makes great wall-decoration.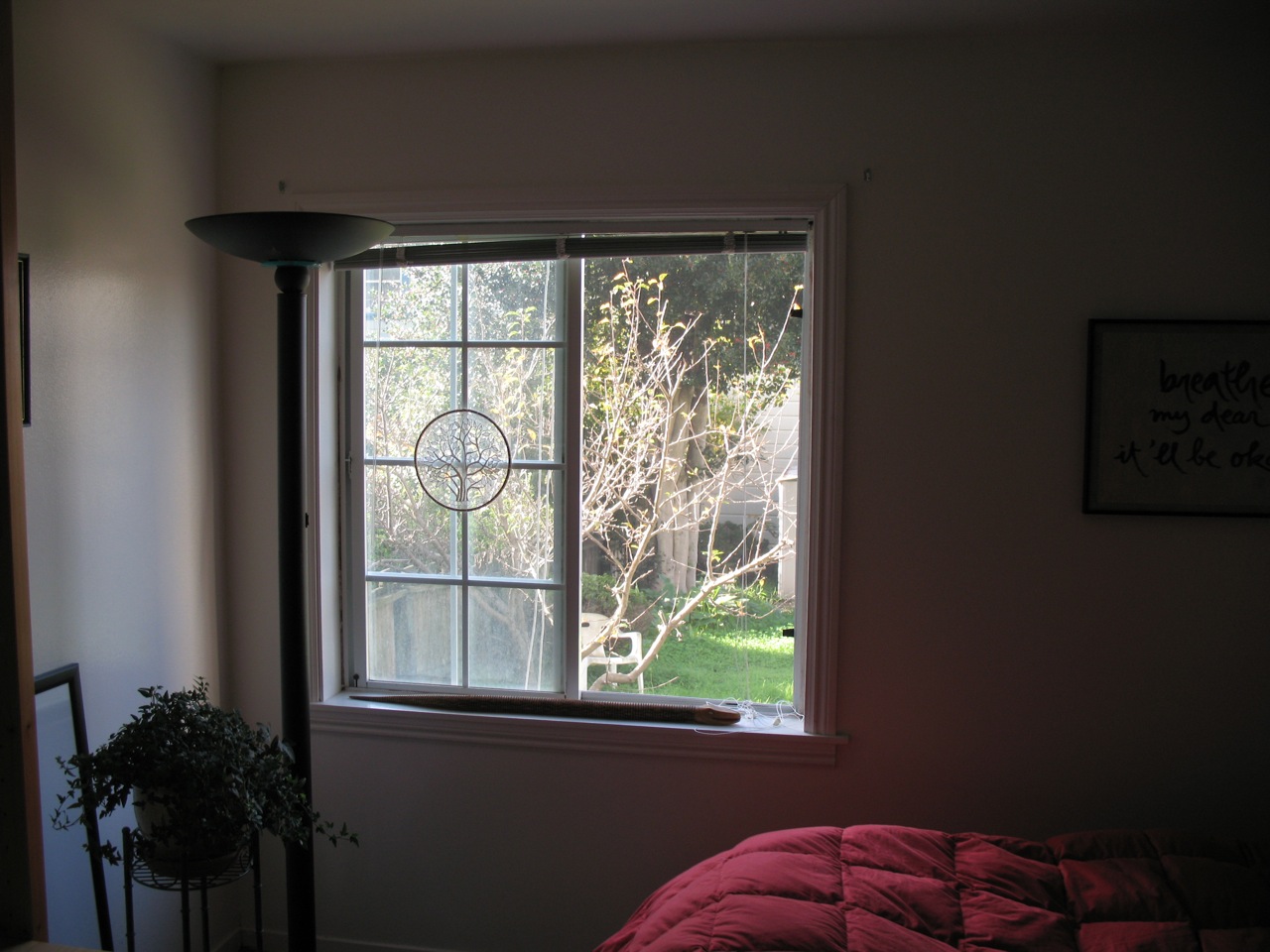 Auch von meinem Schlaf- und Arbeitszimmer kann ich einen Blick in den Garten werfen. Das Fenster hier ist sogar noch größer (von daher ist die Arbeitsecke auch besser hier…).

Another view into the garden.
Also, das war's! Wenn ihr mehr sehen wollt, müsst ihr mich besuchen kommen…

And that's it! Thanks for visiting!