Here are accounts and pictures of a couple of larger hikes that I undertook last year: Almost to the Murietta Falls in the Del Valle Regional Park and two hikes in Yosemite.
---
---
I've been trying various running programs for a while. I love to walk and somehow running just doesn't seem to fit my body. Plus, I don't like the idea of "pounding the pavement." So, a couple years ago, after yet another unsuccessful attempt at running, I decided that in order to get my heart rate up, I'd just needed to learn to walk faster! That's how I stumbled onto race walking. Since it avoids the pounding, it has a much lower injury rate than running. I loved the way it felt: There's nothing like gliding along fast! I was hooked. When done properly, race walking also burns more calories than running. Yupp, that's right: Going at the same speed, a race walker burns more calories than a runner. At 5 mph, a runner burns about 480 cals; a race walker burns 530. At 7 mph, the difference is 270 calories! You don't think one can walk so fast? With the right technique you can!
Unfortunately, I quickly ran into a problem: Shin pain. I realized that I had started out way too quickly, not allowing my shins to adjust to the new strain. Apparently, this is a rather common problem for new race walkers. I found a lot of exercises to strengthen the shins (some of them I can highly recommend!). But as much as I looked, there was no sample workout schedule for absolute beginners out there. I could find oodles of programs for getting off the couch and running a 5K. No such luck with race walking. Since the shin exercises didn't seem to do much good, I gave up – on the race walking, not the exercises.
I kept in touch with the people from the Golden Gate Race Walkers, though, and during a recent fitness walk, I ended up doing some race walking. I loved it! And I noticed no shin pain! We had been walking for more than an hour before starting the race walking, so I figured my legs were just well warmed up. The experience rekindled my interest in race walking but I still didn't know how to slowly start to race walk, allowing enough time for my body to adjust to the technique. And then, I looked in that old book the founder of GGRW had given me. There it was: a training schedule! I was excited and ready to try again.
I just came back from my first race walk. My shins were screaming at me after 5 minutes, so I stopped and stretched. I remembered from the Dave McGovern article that it's important to watch the stride: Reaching out too far up front can cause shin pain. So, after my stretching I started out slowly watching my stride, pushing off with a long leg in the back but only taking a small step in front. When my shins said something again, I counted my steps. According to the Howard Jacobson schedule, I am supposed to take 90-120 steps per minute. I was way faster! I slowed down and soon was smiling: no shin pain!
Lessons learned: Watch proper form and start out slow! There are plenty of resources on technique. And thanks to Howard Jacobson's book published in 1980, I now have a schedule for easing into race walking.
---
I set out to hike to Murietta Falls on the Ohlone Wilderness Trail to see if I am ready to hike up Half Dome. The trail is rated a 5 out of 5, just like Half Dome, in Foghorn Outdoors California Hiking. They also call it a "butt-kicker."
It took me about an hour and a half to drive to Del Valle Regional Park from my place in San Francisco. It was a beautiful area despite the yellowing, dry grass. I got a map and a permit for the Ohlone Wilderness Trail when I entered the park and followed the attendant's directions to the Lichen Bark Picnic area, which was already brimming with people getting ready for Memorial Day picnics. I left a layer of clothes in the car: the sun was warming up the area, which felt good after having been in the gray and cold City. Happy to be an hour ahead of my schedule, I set off to hike to Murietta Falls. I had 5 liters of water in my pack and plenty to eat. Although there had been signs to the Ohlone Wilderness Trail along the road, I didn't see any once I was in the picnic area. I consulted the map, which wasn't very helpful, and headed off into the direction I thought I should go. Foghorn pointed out that you'd be scaling a hill right off the start. And I also knew that I should hit the sign-in area in about one mile. I went up a hill. And up and up and up. That mile sure took long. I passed a couple of Asian men resting. Shortly after that, I took the bottom parts of my pants off. And up and up I went. I was sweating profusely. Shortly before I hit the crest, I ran into four other hikers who wanted to know where I was hiking. I told them that I was in search of the Ohlone Wilderness Trail. To our chagrin, we decided that we all were at the wrong place! I had just been scaling this hill for more than 30 minutes and I wasn't even on the right trail! So, down we went the small footpath. They went ahead faster because I took my time to avoid slippage. I caught up with them in the picnic area and heading back toward the parking lot, I saw the large, clear sign, pointing me to the Ohlone Wilderness Trail – the opposite direction I had gone.
The real Ohlone Wilderness Trail starts off at the end of the parking lot by the Lichen Bark Picnic area but veers left. Avoid the trail called Oak Hills! It does not lead to Ohlone, though the view from up there is also pretty beautiful. I guess I wasn't supposed to start the Ohlone until noon, the time it was when I started off again, having detoured for an hour on the wrong trail.
Unlike Oak Hills, the Ohlone Wilderness Trail is a pretty wide trail, at least for the first few miles. You start going up, albeit not as steep as on what I had already scaled on the Oak Hills Trail. After a mile, you get to the real trailhead, where you sign in "for search and rescue missions," somewhat disconcertingly. And then the trail goes up again. According to Foghorn, this is a 1,700-foot gain up to Rocky Ridge, 2.4 miles into the trail (from Lichen). Then it goes down, down, down to a little creek, changing to a narrower trail shortly before you hit the valley floor at Williams Gulch. After crossing the creek, it goes up once again on a narrow trail, zigzagging through the woods. I met a couple hikers there, confirming that I was still on the Ohlone Wilderness Trail. I hadn't seen a trail marker for a while, so I was worried that I had, yet again, veered off the trail. After this 1,200 feet rise, past what's marked on the map as Big Burn, I was delighted to see marker 36, which is back on a wider trail. Now, the hiking is on more or less flat terrain past some large boulders sticking out of the grassy land. If I had more energy, I would have danced when I saw Johnny's Pond. I knew it was close to my destination: Murietta Falls. There indeed is water in the pond and even a bed of water lilies. My body, however, was tired. I left the Ohlone Wilderness Trail to follow the trail to Murietta, realizing that the falls would be down in a valley. When the trail started to descend, the rocks under a nearby tree looked very inviting. Reasoning that the Falls would probably be dried up anyways, I decided to stop my hike there. I knew that I would have to hike back 5.5 miles and although I realized that all the hills I went up, I could go down, I still remembered a few downhills that I would have to manage to get up. I just could not imagine to add another uphill to that just to see the Falls. I pushed away the feelings of failure reminding myself of my hourlong false start with an uphill trail that had drained me already and, more importantly, my water. I rested and ate my lunch at about 3 PM, a half a mile further than signpost 35. Yet, I was so close! Did I really want to give up now? My mind tried to will more energy into my body but the adult in me decided that it was more important to make it back safely than to finish the hike. After all, I was hiking alone. And then it occurred to me: This just meant I had to come back again and finish the hike, starting off on the right trail to begin with! Appeased by that thought, I enjoyed my lunch and the view.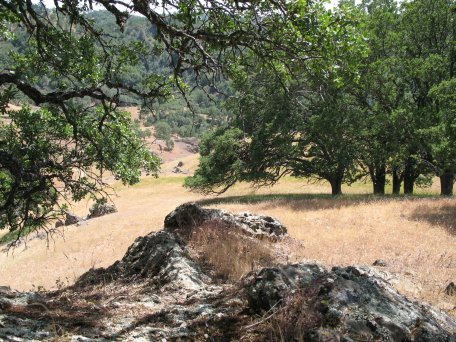 The view from my lunch post toward where I suspect Murietta Falls is.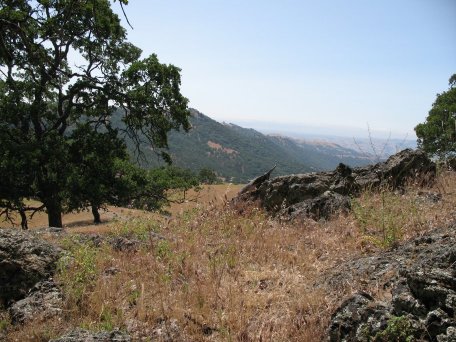 And the long view from my lunch post. Despite the dryness, still very impressive!
(And, yes, I didn't have the energy to get up to take better pictures…)

Refreshed after lunch, somewhat at least, I set off to walk back. After spending the first mile or so cursing myself and others for getting myself onto this "let's see what my body can take" track, alternating between not wanting to do Half Dome and feeling like a failure for not doing it, I finally realized that I was in a beautiful area. Duh! Although my legs were tired and a strange bruise was developing on my left biceps (I didn't remember getting hit!), I could still smell the flowers. I could marvel that I had hiked up the trail that I was going down now. And, then, somewhat suddenly, the creek was there. I smiled! I had made it through the longest stretch between signposts. Now I knew I could make it even though I had to go uphill for a bit. Fortunately for me, the way back is mostly, though not entirely, downhill. Plus, I remembered landmarks and hiked from one to the next, one step at a time. I was a little worried that I might not have enough water. I had finished the 3 liter bag before I reached my turn-around point. Now I was already well into my 2 liter bag. I remembered, though, that at signpost 39 was some water, so I could refill there, if necessary. When I checked my water level, I was surprised to discover that I still had about 1 liter left. I guess going downhill and cooler temperatures helped conserve water. I did have to stop frequently, too, so I knew I wasn't dehydrated, so I passed marker 39 without stopping for water. Less than 1 mile to the sign-in and then another mile to the car! I can do that! Now, knowing I would make it safely, I could fully enjoy the rest of the hike. I noticed flowers that I hadn't seen on my way up. And I noticed flowers that I had seen, remembering that most flowers were pink around here. Five and a half hours and close to 12 miles after I set out, I returned to the parking lot, soaking wet with sweat and relieved that I made it back (and had a spare set of clothes with me). Including the false start, I had hiked six and a half hours and probably about 14 miles, more than half of that uphill. No wonder I was tired!
During my self-doubt mile, I kept asking myself why I was doing this to myself. I couldn't come up with an answer. The word "insanity" kept creeping into my mind. When I was done, though, and had eaten dinner at home, I realized why I was doing it: For the feeling afterwards. That nice, tired body that tells me that I have accomplished something: I just hiked a half marathon! Of course, all the beautiful views helped, too, plus the flowers and the flowering trees that had pulled me out of my self-doubt. And then there are those times when I just stopped on the trail, trying not to breathe to hard, and just listened. All I could hear were birds, bees, flies, and the occasional cow. No human generated sound. All that is why I hiked that trail. Would I go back? Yes, after my legs have recovered!
---
This hike is the 11km option of the Half Dome Assault. It goes past Vernal Falls to the top of Nevada Falls where it departs from the Half Dome ascent to go down John Muir trail.
The hike starts at the Happy Isles trailhead on the trail to Vernal Falls. This part of the trail is still pretty crowded even this early in the morning (we left Curry Village about 6:30 AM). Past the bridge crossing the Falls are bathrooms and water fountains. Shortly after Vernal Falls, the trail splits, we are taking the slightly faster but more strenuous Mist Trail. The trail winds its way up on steps blasted into the granite. It could be slippery at places but it's late enough in the year so that the trail is almost completely dry. The mist comes from Nevada Falls, which you can admire from close up from the trail.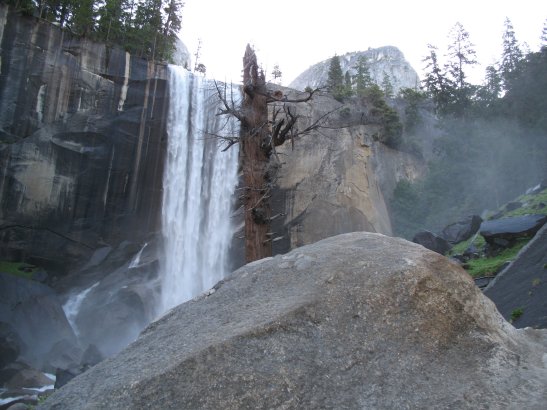 One of the first good views of Nevada Falls from the Mist Trail.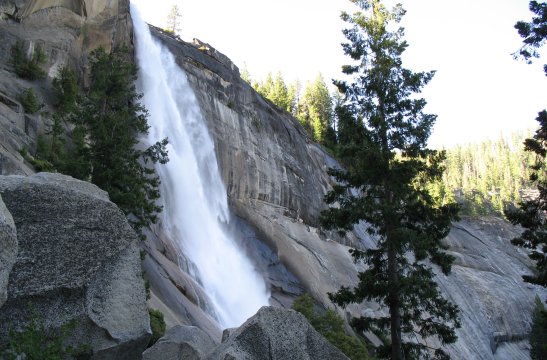 You can see where the mist comes from…

If you're walking slowly and steadily, the trail is fairly manageable. Stopping to take pictures is often possible, although you will quickly loose your spot in the human snake making its way up to the top of Nevada Falls. This often leads to passing the same people again and again. At the top of the trail, there is another split. The trail to the left leads to Half Dome. The trail to the right leads to the John Muir Trail. I say good-bye to my friends who are in pursuit of the Half Dome summit and head toward John Muir trail. This trail starts out with a top view of Nevada Falls.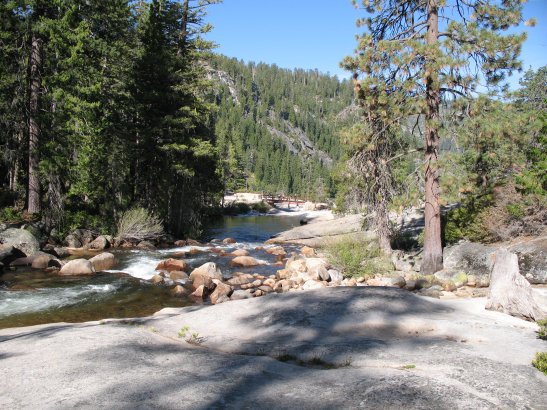 The view toward John Muir trail and the Nevada Falls is just gorgeous.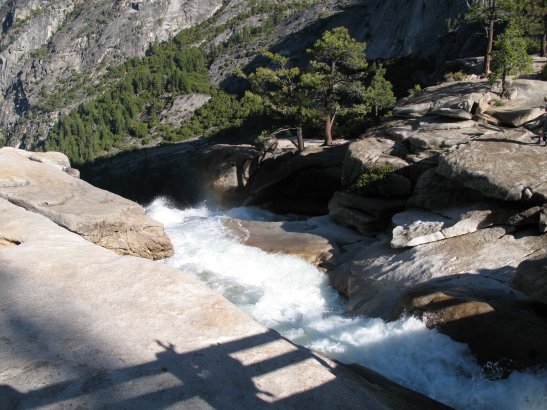 The view of Nevada Falls from the bridge leading to John Muir trail. People who only use Mist Trail miss this view unless they make a slight detour…

Along John Muir trail, the valley views are magnificent and you can see Nevada Falls for about half the descent back down to the valley, which I very much enjoyed. Along the trail, a section was quite wet with a natural shower created by water running off a granite wall. Fortunately, sticking close to the wall allowed hikers to pass the section relatively dry. I noticed that the hikers I encountered, all of them going up John Muir trail, were pretty chatty. Almost all of them greeting me cheerily. I noted the difference to the hikers on Mist Trail, who, if they weren't resting, silently climbed up the trail without air left for talking. Although I very much enjoyed the loop allowed by going up on Mist Trail and down on John Muir, keep the difficult level in mind when you ascent!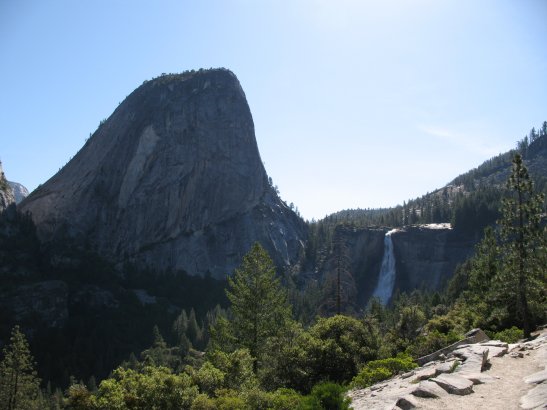 One of the last views of Nevada Falls from the John Muir trail close to the higher intersection with Mist Trail at Clark Point.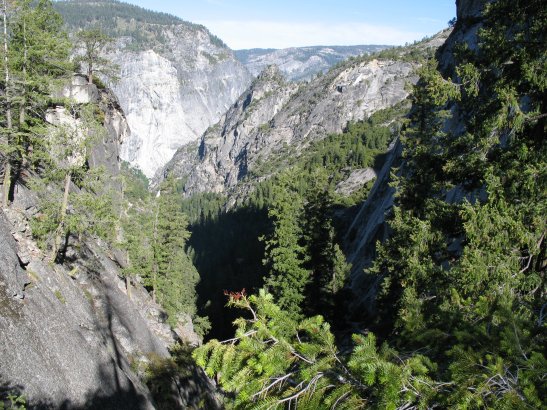 The Valley view from John Muir trail very close to Nevada Falls.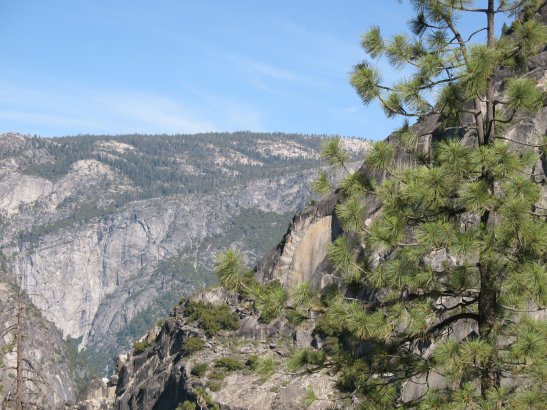 And more Valley views from the John Muir trail.

At Clark Point, John Muir trail intersects with a trail leading to Mist Trail. There I ran into three mounted people: a guide with two tourists on their way up on horses. Although directed at the two tourists, I received confirmation that I was indeed looking at Half Dome.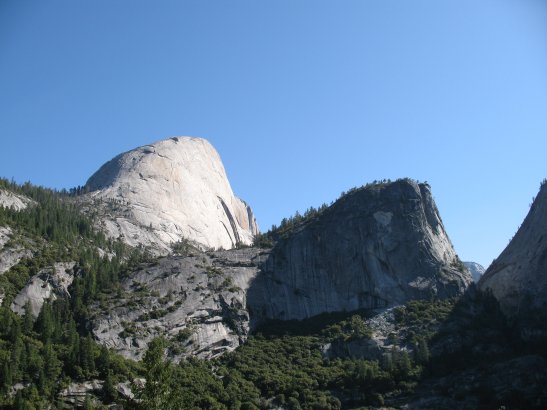 Half Dome as viewed from Clark Point on John Muir trail. It's the bald one…

Shortly after Clark Point, the views disappear as you descend closer to the Valley. The number of people I encountered increased with the closeness to Vernal Falls. Past Vernal Falls, the trail teams with groups of people, including tons of children. I suspect most of them were heading only to Vernal Falls. But certainly some of them looked like they were going all the way up to Half Dome, more or less prepared. Back at the trailhead, I was fascinated by the station monitoring the Merced River's water-level. A sign points out how high the water rose on a fateful day in January 1997. After reflecting on the power of water, underscored by the many waterfalls, I head back to Curry Village to change and for lunch. On my way back to the Village, I encounter three people staring at something. I stop to see what they are looking at: a bear and her cub! Taking about an hour-long break, I set out to hike the Yosemite Valley Floor Loop refreshed.
---
This loop is a wonderful way to explore the Valley. It is a 21km loop.
After having hiked to Nevada Falls, I was glad that this hike took me on more level ground. Since I started out in Curry Village, I hiked probably about 2 miles to get to Sentinel Bridge, the starting point of this hike. Fortunately, the bridge is marked on the Valley map, so I had no trouble finding it. The hike starts out following a bike path along Southside Drive, which goes past the little Chapel. Once you are past the Chapel, the right opens up to a meadow with the first view of Yosemite Falls. Since this was my first time in Yosemite, I was unsure of many of the landmarks I encountered on my hikes. Fortunately, a photographer was by the roadside and more than happily confirmed my suspicion that I was watching Yosemite Falls in action.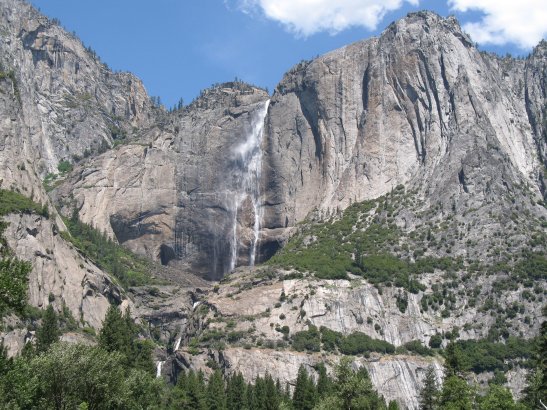 Yosemite Falls as viewed from the southside of Yosemite Valley.


Shortly after this view, I headed across Southside Drive to the trail to Bridalveil Falls. The trail meanders along Southside Drive, sometimes (too) close to the road, sometimes further up. I am struck by the many boulder slides I encounter. It is hard to imagine that these huge rocks were once on the move. Yet, just the night before, I had heard a rock slide, mistakenly identifying it as a rain pour until I was set straight by a friend the next morning. I encounter only a handful of other hikers on this beautiful trail until I get closer to Bridalveil Falls.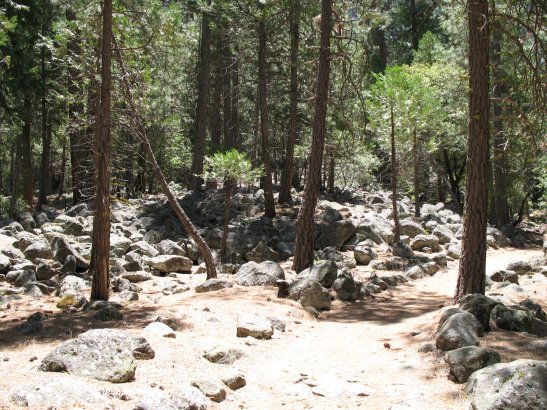 Somewhere along the trail…


And then there is Bridalveil Falls! I realize that I am fascinated by falls. It seems like I tend to pick hikes to falls. Fed by Bridalveil Creek, this fall gets its name from the way the mists look when blown by the wind. Definitely stop by the Vista Point! It is well worth the extra trip.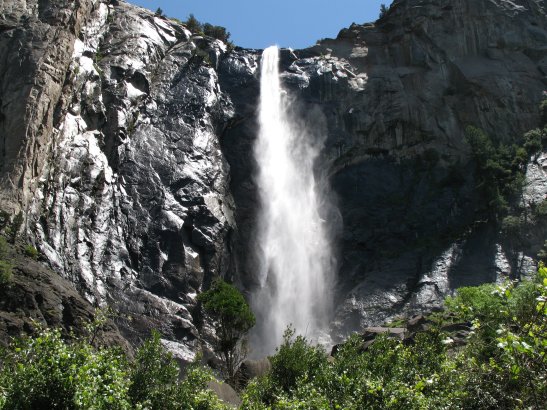 Bridalveil Falls as viewed from the Vista Point.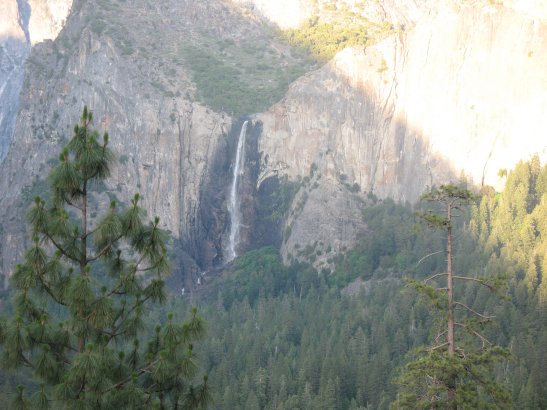 We saw Bridalveil Falls again from Inspiration Point, to which my friend took me on our way back home. This picture is taken much later in the day…


Excited from the view of another impressive waterfall, I head to the parking lot in search of the trail that was supposed to lead me to Pohono Bridge, a bridge that I had not found on any of the maps I carried with me. No signs. I take a closer look at the Yosemite map I had printed out (Choose the Park Map). I could tell that there was a street that crossed Merced River close to Bridalveil Falls, which must be Pohono Bridge. So, if I would just walk up the street a bit I should get there. I knew from a sign close to the parking lot, that the bridge was slightly more than a mile away. I started out on the side of Southside Drive in the direction of the intersection where one part would lead me to the bridge. So I thought. It turned out that the exit from the parking lot is further on Southside Drive than the intersection. I headed toward the tunnel for about 20 minutes when I decided that there was no intersection this way and turned around. I found the intersection on my way back but decided to look for the trailhead some more because both roads were buzzling with cars. A meadow with view of Bridalveil had a sign to Pohono Bridge! Excited I followed the sign. Unfortunately, there was no indication of direction on the sign, which I found out was a major drawback. Twice. Frustrated with my three false starts, which caused me to add about 90 minutes of extra hiking or about 8km, I took a deep breath and headed toward what I hoped was the Pohono bridge on the road. As I was cursing the cars that were passing too close to comfort, I looked into the woods and I saw a trail! A bit leery of yet another trail leading me nowhere, I nevertheless decided to get out of cars' way and take the trail. As long as the trail would stay close to the road and lead in the direction I figured the bridge should be, I would be okay. I was dancing for joy when I spotted a bridge! And I felt like I had won the lottery when I saw the sign on it: I had found Pohono Bridge. Oddly enough, I did not take a picture! I still don't know where the trailhead is but the trail to the bridge, once I had found it, was very nice leading me through forest sometimes close to the Merced River. (Of course, two days after my hiking, I discover a hiking map that shows the Pohono Bridge: http://www.nps.gov/yose/planyourvisit/upload/valleyhikes.pdf).
Once I had crossed the bridge, I was supposed to follow signs toward El Capitan and Yosemite Village. Again, there were no signs. Deciding that I would take my chances with a trail that looked official and was heading in the right direction, I set off going East close to Northside Drive. About 10 minutes into this section of the hike, I had another view of Bridalveil Falls. The trail ended close to a controlled burn area. Fearful of more false starts, I decided to walk along the road, which is less traveled than Southside Drive. Shortly thereafter, I ran into three hikers who were looking for the trail to Pohono Bridge that I had just come. We commiserated over the lack of signs and shared stories of our false starts. Fortunately, since they had come the other way, they were able to point me toward a trail they had taken from Camp 4. With renewed energy, I set off on my search of the El Capitan trail. Again, I used sense of direction – and El Capitan itself – to lead my way since signs were scarce. Based on the maps I carried, I had decided the route I would take. I soon passed what I thought was Camp 4, excited that I might have time to stop at the Ansel Adams gallery my friend had recommended.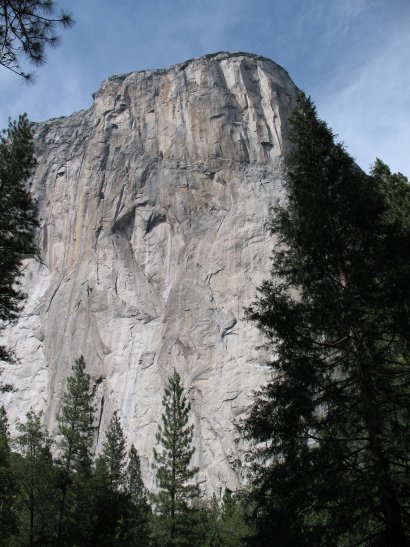 Fortunately for me, El Capitan is very visible – unlike the signs that are supposed to point out the trail leading to it.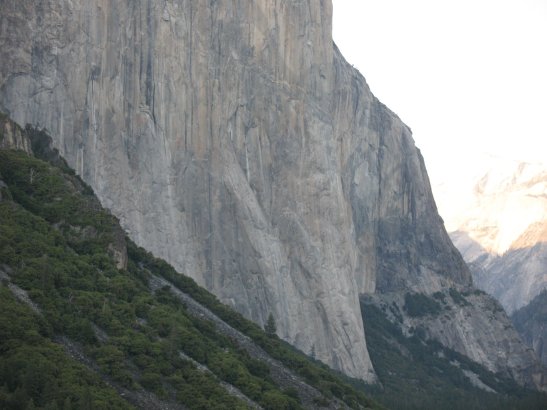 The (barely visible) heart on El Capitan as seen from Inspiration point. Again, this picture was taken later in the day after driving there.


I had underestimated where I was. I kept looking for the trail on the map. Finally, I realized that the trail was sandwiched by the drive and the river. I hadn't passed Camp 4. I was about half a mile West of it… By this time, I had no idea if I was on the trail I was supposed to take. But at least, I now knew where I was on the map. Even though that was further away from the end than I had thought, I no longer felt lost and enjoyed my surroundings again. After passing through Camp 4, the same pattern emerged: no trail signs but something looking like a trail, which I took since it roughly coincided with the trail on the Yosemite Valley map (Choose the Yosemite Valley map). I passed by a rock climber camp, fascinated to see about 40-50 people being trained in scaling these rocks. Soon, I saw the Yosemite Lodge and the number of people on the trail increased again. I decided to give up on Yosemite Village since it was close to 5 PM and I figured the Ansel Adams Gallery would be closed. Plus, my feet and legs were tired. I had mapped out a route along a self-guided trail that would lead me back to Sentinel Bridge. Figuring that I had more than covered 21km, I felt justified in abandoning the walk instructions, especially since I wasn't sure I could find the trails they were leading me on (unfortunately, the map that came with the instructions was more than useless – my only complained about this hike!). The self-guided trail leads across a meadow back to Sentinel Bridge, the end point of the walk. The bridge provides another view of Half Dome, the bald giant of Yosemite.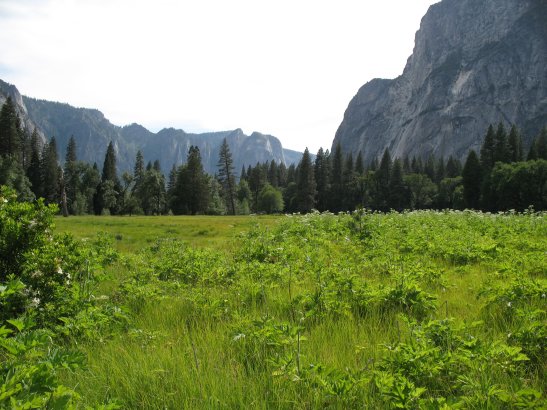 The meadow along the self-guided trail that I took back to the hike starting point.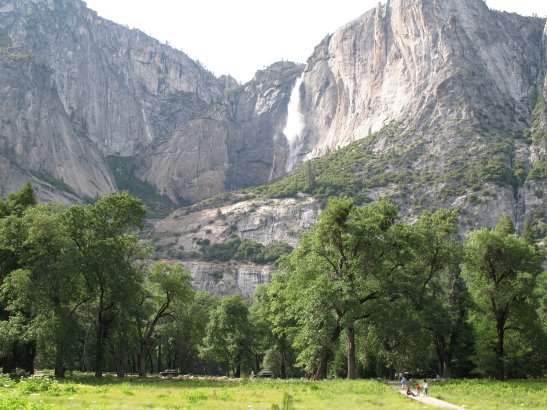 Yosemite Falls can be seen again from the self-guided trail.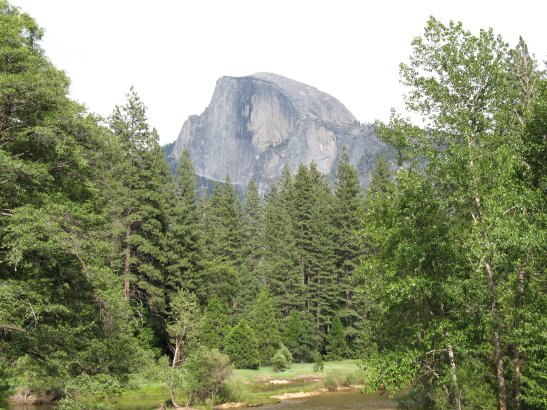 Half Dome viewed from Sentinel Bridge.


After spending about 40km (or 25 miles) hiking in one day on two trails, most of it by myself, I was glad to reconnect with the others in the Half Dome group in Curry Village. Many of them had made it up Half Dome, some of them barely, others turned around at various points for various reasons. After some dinner, my friend and I headed back home to avoid traffic out of Yosemite on Sunday. Before we went home, he took me on a tour through Yosemite Valley, seeing some of the same sites I had hiked to earlier in the day. The drive culminated at Inspiration Point with its inspiring views.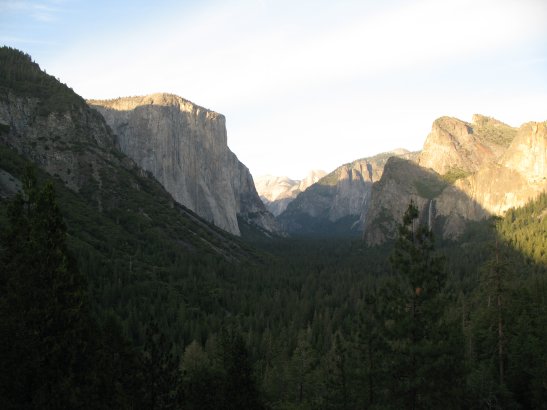 The view of Yosemite Valley and beyond from Inspiration Point at about 7:30 PM on an early June day.


Nicely tired and full of wonderful images and experiences, we leave Yosemite driving into the sunset… Arriving back home totally exhausted after 3 1/2 hours of driving.
---
This page utilizes Aral Balkan's Inline Posts Plugin, which allows you to create a blog within a blog. And I am using this trick to exclude the categories on this page from my front page.