Murietta Falls Trail: Take 1
I set out to hike to Murietta Falls on the
Ohlone Wilderness Trail
to see if I am ready to hike up Half Dome. The trail is rated a 5 out of 5, just like Half Dome, in
Foghorn Outdoors California Hiking
. They also call it a "butt-kicker."
It took me about an hour and a half to drive to Del Valle Regional Park from my place in San Francisco. It was a beautiful area despite the yellowing, dry grass. I got a map and a permit for the Ohlone Wilderness Trail when I entered the park and followed the attendant's directions to the Lichen Bark Picnic area, which was already brimming with people getting ready for Memorial Day picnics. I left a layer of clothes in the car: the sun was warming up the area, which felt good after having been in the gray and cold City. Happy to be an hour ahead of my schedule, I set off to hike to Murietta Falls. I had 5 liters of water in my pack and plenty to eat. Although there had been signs to the Ohlone Wilderness Trail along the road, I didn't see any once I was in the picnic area. I consulted the map, which wasn't very helpful, and headed off into the direction I thought I should go. Foghorn pointed out that you'd be scaling a hill right off the start. And I also knew that I should hit the sign-in area in about one mile. I went up a hill. And up and up and up. That mile sure took long. I passed a couple of Asian men resting. Shortly after that, I took the bottom parts of my pants off. And up and up I went. I was sweating profusely. Shortly before I hit the crest, I ran into four other hikers who wanted to know where I was hiking. I told them that I was in search of the Ohlone Wilderness Trail. To our chagrin, we decided that we all were at the wrong place! I had just been scaling this hill for more than 30 minutes and I wasn't even on the right trail! So, down we went the small footpath. They went ahead faster because I took my time to avoid slippage. I caught up with them in the picnic area and heading back toward the parking lot, I saw the large, clear sign, pointing me to the Ohlone Wilderness Trail – the opposite direction I had gone.
The real Ohlone Wilderness Trail starts off at the end of the parking lot by the Lichen Bark Picnic area but veers left. Avoid the trail called Oak Hills! It does not lead to Ohlone, though the view from up there is also pretty beautiful. I guess I wasn't supposed to start the Ohlone until noon, the time it was when I started off again, having detoured for an hour on the wrong trail.
Unlike Oak Hills, the Ohlone Wilderness Trail is a pretty wide trail, at least for the first few miles. You start going up, albeit not as steep as on what I had already scaled on the Oak Hills Trail. After a mile, you get to the real trailhead, where you sign in "for search and rescue missions," somewhat disconcertingly. And then the trail goes up again. According to Foghorn, this is a 1,700-foot gain up to Rocky Ridge, 2.4 miles into the trail (from Lichen). Then it goes down, down, down to a little creek, changing to a narrower trail shortly before you hit the valley floor at Williams Gulch. After crossing the creek, it goes up once again on a narrow trail, zigzagging through the woods. I met a couple hikers there, confirming that I was still on the Ohlone Wilderness Trail. I hadn't seen a trail marker for a while, so I was worried that I had, yet again, veered off the trail. After this 1,200 feet rise, past what's marked on the map as Big Burn, I was delighted to see marker 36, which is back on a wider trail. Now, the hiking is on more or less flat terrain past some large boulders sticking out of the grassy land. If I had more energy, I would have danced when I saw Johnny's Pond. I knew it was close to my destination: Murietta Falls. There indeed is water in the pond and even a bed of water lilies. My body, however, was tired. I left the Ohlone Wilderness Trail to follow the trail to Murietta, realizing that the falls would be down in a valley. When the trail started to descend, the rocks under a nearby tree looked very inviting. Reasoning that the Falls would probably be dried up anyways, I decided to stop my hike there. I knew that I would have to hike back 5.5 miles and although I realized that all the hills I went up, I could go down, I still remembered a few downhills that I would have to manage to get up. I just could not imagine to add another uphill to that just to see the Falls. I pushed away the feelings of failure reminding myself of my hourlong false start with an uphill trail that had drained me already and, more importantly, my water. I rested and ate my lunch at about 3 PM, a half a mile further than signpost 35. Yet, I was so close! Did I really want to give up now? My mind tried to will more energy into my body but the adult in me decided that it was more important to make it back safely than to finish the hike. After all, I was hiking alone. And then it occurred to me: This just meant I had to come back again and finish the hike, starting off on the right trail to begin with! Appeased by that thought, I enjoyed my lunch and the view.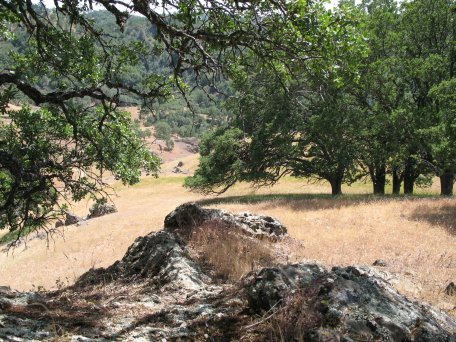 The view from my lunch post toward where I suspect Murietta Falls is.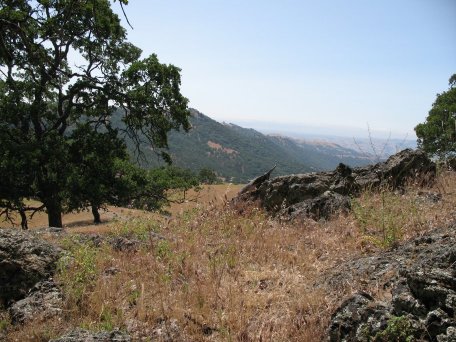 And the long view from my lunch post. Despite the dryness, still very impressive!
(And, yes, I didn't have the energy to get up to take better pictures…)

Refreshed after lunch, somewhat at least, I set off to walk back. After spending the first mile or so cursing myself and others for getting myself onto this "let's see what my body can take" track, alternating between not wanting to do Half Dome and feeling like a failure for not doing it, I finally realized that I was in a beautiful area. Duh! Although my legs were tired and a strange bruise was developing on my left biceps (I didn't remember getting hit!), I could still smell the flowers. I could marvel that I had hiked up the trail that I was going down now. And, then, somewhat suddenly, the creek was there. I smiled! I had made it through the longest stretch between signposts. Now I knew I could make it even though I had to go uphill for a bit. Fortunately for me, the way back is mostly, though not entirely, downhill. Plus, I remembered landmarks and hiked from one to the next, one step at a time. I was a little worried that I might not have enough water. I had finished the 3 liter bag before I reached my turn-around point. Now I was already well into my 2 liter bag. I remembered, though, that at signpost 39 was some water, so I could refill there, if necessary. When I checked my water level, I was surprised to discover that I still had about 1 liter left. I guess going downhill and cooler temperatures helped conserve water. I did have to stop frequently, too, so I knew I wasn't dehydrated, so I passed marker 39 without stopping for water. Less than 1 mile to the sign-in and then another mile to the car! I can do that! Now, knowing I would make it safely, I could fully enjoy the rest of the hike. I noticed flowers that I hadn't seen on my way up. And I noticed flowers that I had seen, remembering that most flowers were pink around here. Five and a half hours and close to 12 miles after I set out, I returned to the parking lot, soaking wet with sweat and relieved that I made it back (and had a spare set of clothes with me). Including the false start, I had hiked six and a half hours and probably about 14 miles, more than half of that uphill. No wonder I was tired!
During my self-doubt mile, I kept asking myself why I was doing this to myself. I couldn't come up with an answer. The word "insanity" kept creeping into my mind. When I was done, though, and had eaten dinner at home, I realized why I was doing it: For the feeling afterwards. That nice, tired body that tells me that I have accomplished something: I just hiked a half marathon! Of course, all the beautiful views helped, too, plus the flowers and the flowering trees that had pulled me out of my self-doubt. And then there are those times when I just stopped on the trail, trying not to breathe to hard, and just listened. All I could hear were birds, bees, flies, and the occasional cow. No human generated sound. All that is why I hiked that trail. Would I go back? Yes, after my legs have recovered!